Peep this Retro Motel on the Gold Coast
It's a great southern-Australian tradition: as soon as the cold snap hits, winter-hating, frost-bitten folk start eyeing off tickets to someplace sunny. This year's primo destination? The Gold Coast. We have to admit we're a little biased in this decision – you see, Palm Beach, Gold Coast, happens to be home to the Mysa Motel. If you love retro aesthetics, pastels and neon signs, this boutique motel will be right up your alley. The dreamy establishment features seven rooms (some with courtyards) and a swish, magnesium mineral pool (ooh! ahh!) Plus, the whole place is powered by solar energy, with rainwater tanks used for toilets and gardens. Eye-pleasing and nice to the environment – how awesome is that?
Pencil Sharpeners are popping up in odd places across Edinburgh
Stuck with a broken pencil? The Portobello Public Pencil Sharpening Project is here to help. Public art can be pretty divisive at the best of times: one person's street art is another person's graffiti, so on and so forth. A rather curious example of this debate is happening right now in Edinburgh, Scotland, where a mysterious collective called the Portobello Public Pencil Sharpening Project has been glueing pencil sharpeners in odd places places: along sea walls, on street signs and electricity boxes. Some locals are questioning what the point is (pun intended), while others are happy to find something to chuckle about during their morning walks. If you ask us, it's a pretty handy service for all the artistic types who enjoy drawing out in the open. If you feel the same, perhaps you'd like to start a similar project in your neighbourhood (please let us know if you do!)
Harriet Parry turns Art into Floral Arrangements
London florist Harriet Parry isn't content with merely assembling bouquets all day. With a background in fine art, she wields an array of blooms, foliage and props like brushes and paints. When she's not working as a floral stylist (she once arranged posies for the Queen), Harriet creates jaw-dropping compositions for her series 'Flower Interpretations'. Each design is modelled on a famous painting, a film still or fashion editorial, which is why you might spot her interpretation of a Picasso next to a shot from Bridgerton on her feed. She hopes her creations make viewers pause and appreciate nature's wonders – something you can certainly do more of over at her Instagram page.
Vicki Ling's 'Hanging By a String'
When you're worn down and overwhelmed, getting through the day can feel like a perilous balancing act. Chicago-based artist and illustrator Vicki Ling has somehow distilled those exact feelings into a series of delicate pencil drawings, and for that she deserves a round of applause. Although Vicki set out to depict how precarious our modern-day societies can be, we reckon her illustrations also mirror the internal turmoil you feel when it all gets too much. In her series 'Hanging by a String', Vicki's artfully arranged objects are held together by a single red string, a suggestion that everything could come crashing down with one pull of the chord. It's beautiful and quietly devastating, and if you fancy seeing more of Vicki's fragile works, check out her folio over here.

A Space Museum within a Church
If you can't judge a book by its cover, it's safe to say you never know what's hiding inside an old building, either. Head 80km out of the Ukrainian capital of Kyiv and you'll find the Museum of Space Exploration, conveniently located within an old wooden church. The museum is a gold mine for Space Race enthusiasts, and boasts rare Soviet objects including Yuri Gagarin's training parachute, a rocket engine and a number of real-deal space suits. Although mass hasn't been held there for many years, the church itself dates back to 1891 – which might explain why the Ukrainian and Russian Orthodox communities are also trying to claim the building for their own. While the opposing churches hash it out, photographer Niels Ackermann has thankfully captured some stunning shots of the building's interior. Here's hoping it stays open for future space nerds.

The Sculpted Trees of San Francisco
You tend to notice some funny things when you spend enough time wandering around the streets of your town. Sometimes it's an eccentric local pacing on a street corner, or a friendly pooch that runs to the fence as you walk by. For Texan gal Kelsey McClellan, a move to San Francisco meant seeing the city with fresh eyes, and spying a whole heap of beautifully sculpted trees on her walks. After a while, she found herself clocking weird and wonderful plants on the regular, so she began documenting them in a series of images. The natural beauties are quite the show ponies, thanks to the owners who have clipped them into a mixed bag of surreal shapes. There are pom-poms, oblong hedges and spirals, to name but a few. Scroll down to check them out.
Petrit Halilaj's Ginormous Bird's Nest
If you were ever swooped up by a mutant bowerbird and taken back to its nest, you might find yourself in a place that looks a lot like Petrit Halilaj's exhibition. For his first solo show, the Kosovar artist drew inspiration from the male bowerbird's mating rituals, installing walls of thick brush and a threatening pair of bird claws in the middle of a glasshouse. With the help of his life partner Álvaro Urbano, Petrit also constructed towering cherry blossoms, poppies and lilies, which serve to remind viewers that us mere humans aren't the centre of the universe. If you happen to be in Madrid and are ready to be humbled by Petrit's version of nature, you can catch the exhibition at the Museo Reina Sofía until February, 2021.
Almond Crepe Cake with Raspberry-Rose Cream
Crepes? Yum. A stack of crepes sandwiched between raspberry-rose compote and cream-cheese frosting? Get that in our belly, immediately. If you find yourself drooling at this description, we suggesting hopping over to the food blog Milly's Kitchen, where you'll find Olaiya Land's recipe for an almond crepe cake. This isn't a 'mix everything in one bowl and whack it in the oven' kind of cake (there's actually no oven involved), but it'll reward patient cooks who don't mind spending an arvo in the kitchen.
Eat.me.do is back with a Range of One-Off Winter Coats
Been saving for a rainy day, frankie friends? We know the launch of a swish fashion range isn't usually a good reason to dip into your savings, but we do think the approaching frost and drizzle warrants a warm new coat. If you tend to agree, we recommend popping over to EAT.ME.DO where you'll find a handful of one-off, sorbet-coloured coats made from vintage wool blankets. Designer Lara Ivachev has been making her 'Cuddle Coats' for the last few years to much success. This time around, she's brought them back with matching floppy hats and big, detachable colours – quite a look when worn all together. To spend your hard-earned pennies on some winter warmers or to browse more of Lara's delightful designs, head right this way.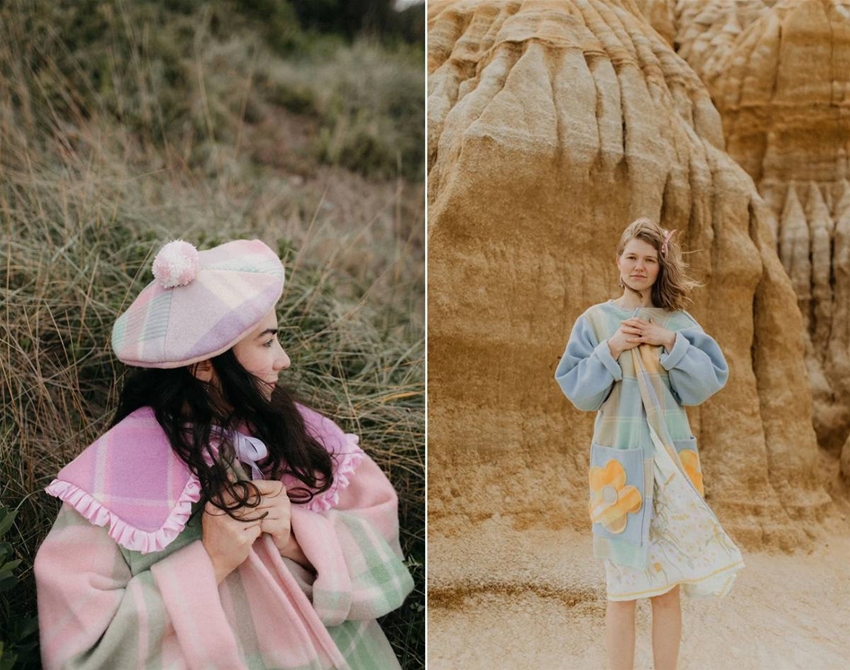 Gallery of Abandoned Ballrooms
Before the fall of the Berlin Wall, spending weekends at the local ballroom was a tradition for East Germans. Life under a dictatorship was harsh, but dancing and partying in the grand old spaces was one way to forget about their troubles. Of course, everything changed after 1989, and gradually, the village halls began to decay. Though many of the ballrooms have since been abandoned, photographer Francis Meslet managed to sneak into about 30, capturing a sliver of their former glory.
Pink and Blue Hues from the World's Largest Salt Flat
As a kid, artist and photographer Navina Khatib would look at the world through kaleidoscopes and cellophane. She never quite grew out of her fascination with filters and reflective papers, so when she visited Bolivia's Salar de Uyuni (the largest salt flat on Earth), it was only natural for her to bring along a prism. Using the analogue filter, she created dreamy, otherworldly snaps filled with hazy pink and blue hues. Rather than capture the realistic terrain of the salt flats, Navina instead chose to focus on the feeling of standing on the natural wonder. That feeling, we think, must be akin to walking for days and reaching a mildly hallucinatory state, if these wonderfully trippy photos are anything to go by. For more ethereal shots, visit Navina on Instagram @navinakhatib