Take us to this seaside cottage, please
An idyllic old cottage with a rambling garden and cosy fireplace, situated between the sea and the forest. Sounds like something from an Enid Blyton story, right? Except, it's not fiction – it's a real-deal place you can stay at should you make the trip down to Pambula, a lovely town along the Sapphire Coast in New South Wales. Lotte's Hjem (pronounced Lot-ees Him) is a 150-year-old weatherboard cottage that's been done up by couple Miranda O'Rourke and Harrison Balodis. Decked out in treasured antiques and cute op-shop finds, the three-bedroom house has all the modern comforts you want in a weekend getaway, while retaining the charming qualities that make for a memorable stay. In short: it's bloody dreamy as!
The real-life trees that look like paintings
Hats off to mother nature for creating rainbow eucalyptus. Remember when you were a little and you'd draw pictures of trees using all different colours? Some boring kid (or adult) would inevitably tell you that tree trunks are brown and leaves are green. But you know what? They were wrong. Enter the rainbow eucalyptus, a stunning multi-coloured tree native to Indonesia, Papua New Guinea and the Philippines. If you live Stateside, you may also spot them in sunny locales such as Hawaii, Florida and San Diego. These natural giants tower over the shrubs around them and reveal their bright, painterly shades as their bark ages and sheds. Pretty incredible, huh?
Peep artist Holly Sanders vibrant fabric range made with Nerida Hansen
Well, well, well, if it isn't another excellent range of colour-happy cloth from the folks at Nerida Hansen. The Melbourne brand consistently rolls out exciting fabrics for print lovers, and the latest is a stellar range featuring Bundjalung artist Holly Sanders work. Holly's rich, earthy paintings have found a new home on lovely linens and cottons, ready for your next home sewing project. Should you desire to drape yourself in Holly's breathtaking designs, which showcase burnt bronzes and brilliant pinks, pop over to the Nerida Hansen site. If you can't get your hands on your favourite print straight away, just keep calm- a restock is on its way. To stay updated on when that drops, follow @hansenprintandtex
Four iconic Australian artists talk change, ageing, failure and creativity

Elisabeth Cummings
What more do you still have to learn?
I hope I'm still learning things. Some people latch on to things quicker, but it's a slow process for me. It's just the way the cookie crumbles – you can't help your own temperament. I certainly don't want to sit in one place and just repeat myself though, so there's that desire to push beyond what I'm comfortable with. But whether I manage to do it is another thing! You can slip back into old habits easily. One has habitual ways of putting a brushstroke down. I try to be aware I don't do it all the time, though.
What advantages does age bring?
Painting always has its concerns and delights: it's the whole business of doing something that feels like you're extending yourself somehow. And that's exciting. Growing old contains all sorts of good things. You don't worry about preoccupations you had when you were younger. But physically I don't have the energy I used to. I also have bad ankles, but I had one fixed up, which has helped a lot. Otherwise I feel pretty good.
How has the art world changed over the decades?
I was brought up in Brisbane, but came to a Sydney art school in the 1950s. There were a lot of things happening in Europe and America at the time we were ignorant of – I had to find out about them later. My parents were very positive for that era, which was very rare. Artists are still a little marginalised, but not as much as they were in the '50s. I've lived through many changes and have an open mind to a large extent, but the changes have been enormous. The art scene is baffling to me mostly.
How often do you paint now?
I have to grab the days I can for painting and the other things in life like friends, my son and my grandkids. But when I have a good stretch of time I try to be reasonably disciplined, starting early and working through the day. (I've not often painted at night as I don't like painting with artificial light) It's very valuable to have a continuous time to work – that's the only way you're going to have anything happen.
How do you make the time you paint count?
 Oh, I dilly dally. I dilly dally, then potter, then start… You can think there's not much time left, but one does what one can. Although time is precious and one should feel the urgency of it, you can still do some dilly dallying!
Who or what do you turn to on uninspiring days?
Oh, I don't believe in inspiration! I think the only way is to keep working. And if you're working then something might happen, even if a lot of it's not marvellously good. Things unfold through the painting itself. And it's exciting to be in that space when something new is happening.
What does creativity mean to you?
Creativity means starting a painting and seeing what happens. It's always a new adventure. everyone has creativity in some form or another. I love looking at children and seeing what they can do naturally. The analytical mind hasn't clicked in yet. I'd love to get back to that childlike state of being without the filter of the rational mind. That's very hard to cast off. But I would love to. At the times when I'm painting and things flow, you just touch that a little bit. And that's the best.
What do you look back on and feel the proudest about?
Oh goodness, I haven't thought of being proud! Maybe just keeping on going – I suppose that's something to be glad about. I'm just grateful really, more than proud. I'm still as excited about painting as I ever was. It's still very fascinating. I love the challenge of it.
Mirka Mora
What does art mean to you?
It's your soul. And you can't work with people who don't have a soul. Your art is your art – never dilute yourself. Nobody is allowed to tell you how to paint. Sometimes I try to tell myself what to do, but it never works! Because it's not art if you decide to do something. Art is free, but of course you have to be alert to catch it when it comes onto the canvas. I don't choose the ideas, they choose me. I don't wait for them. They come without my permission.
Do you have to study to be an artist?
I'm a self-taught person, so I don't believe in rules. I lived in Paris and couldn't go to school because there was the war and I was Jewish. But I'm lucky in a way that I didn't go, because now I don't have to obey the rules. While I'm alive, I have to understand what happened. I have to understand the concentration camps. But you can't. I was in a concentration camp – I still hear the sound of the soldiers' motorbike in my ears. A war is a war. You have people who are wonderful and save you, and you have people who are awful and don't do a thing. But there are good people.
What has become easier as you've aged?
I find life goes very quickly – I never see it! People suffer being old, but I think it's fabulous. It's like a new adolescence, and I missed out on mine because of the war. I jump like a kangaroo and fly around my house! I work sometimes to the limit, till I can't move! I don't wear glasses because they make me look stupid – I have a magnifying glass on a chain instead. But it doesn't affect my work. That is the magic, because I can still see the slightest tonal mistake, even if it's not bigger than half a millimetre. The optometrists don't know what to do with me!
How was the Australian art scene different to Europe's when you came here in 1951?
Painters were starving because society was not sophisticated and educated enough. The National Gallery didn't exist then. And galleries are very important to educate people. People respect art, but are suspicious of artists. But they're more educated today. I never want to leave Melbourne. I was born in Paris – I don't need to be there anymore.
How has your perspective of the world changed?
It's exactly the same. I haven't grown up but I am no fool. I'm a bit embarrassed to say this, but I don't want to go into the real world. I threw away my digital camera as I thought it was frigid. I don't participate in the internet, but I know it's marvellous. Technology may save us, but why do we want to be saved?
What are you still trying to achieve?
There is no present and there is no past. It's just a kind of dream you live in. The perfect piece doesn't exist. You cannot do it. I'm just learning. Life is about learning. And so is painting. If I wasn't learning anything, I wouldn't work. I just have to keep discovering. Picasso said that he doesn't decide, he finds. The idea has to find you. If not, it's not art. It's something else. Art is more and more of a mysterious thing, but it's still elusive to me.
Is there anything you would do differently if you could?
A failure is always a success in my book. I'd never change because I do what I want to do. The secret in life is to find beautiful people and surround yourself with them. I am a bee in disguise and my friends are flowers! I am still a rebel. I still have a lot to learn.
Robert Dickerson
When did you first become interested in art?
I started painting during the war. I was up on an island in the Pacific after it ended and had nothing to do. I found a book of [post-impressionist artist] Gauguin's paintings of the Pacific and thought, "If Gauguin can do it, I can do it, too." So I used the old tent canvases and leftover camouflage paint and painted the Indonesian kids. They liked them and used to give me coconuts in exchange.
Has painting become easier with experience?
To paint a good painting is a pretty rare thing to do. I love it. I'm quite excited by a good painting. I know exactly when a painting is good now. If you paint a dud one then you can sit there and make it into a good one – I just paint another picture on top of it. there are probably about four paintings under each one.
What do you think now looking back on your early works?
I painted on cardboard and used to destroy most of them in the early period. There are only a few of them around now. I was once living in a little house with floorboards, and whenever I got a bit fed up with a picture I nailed the piece of cardboard with the painting on it to the floor. Anything I was happy with, I'd keep; anything I wasn't happy with, I'd nail. They could have been good paintings when I look back at it, but I don't really regret it.
How was your art perceived back when you were younger?
When I was painting in the '40s and '50s, people didn't have much respect for artists, that's for sure. But I didn't care. if I don't like a painting when it's finished I don't care, so when people criticise it I still don't care. You've got to make your own decisions about what a painting looks like.
How has your perception changed as the world has changed?
I think it's a very exciting time. Australia is different to what it was when I was a boy. There were only one million people in Sydney and no refugees: now it's a completely different country with all sorts of people from everywhere. It's liberty! It gives me a great escape to paint people. I like painting old ladies. They seem to be able to survive better than anybody. They're tougher.
Do you consider yourself a tough person, too?
Well, I'm still alive! That's about the most of it! I hope to go a little bit longer. You've just got to want to do something. You've got to have ambition. I want to paint a really good painting all the time, and now I've got the time to do it in. I'm optimistic about anything – I like going to the races, too, and I like being optimistic about the horses.
How have your painting habits changed with age?
I still paint every day. I used to paint all night when I was younger – I could still do that quite easily! Not a bad idea, actually… it's very hard to go to bed and sleep through like I used to. But I'm still in good health. I can still walk rather well and do all sorts of things like swim and lift weights. If you keep exercising until the mind goes, then you're OK. Once you fall into a slump then you're a dead pickle.
What have you done to keep motivated over the decades?
It's not that complicated. It's about how lazy you are. If you want to paint, you'll do it. I always just painted because I wanted to. That's my workout. The only advice I can give is to do your painting. And don't worry about what other people say. You don't take notice of people. You need to take notice of yourself.
John Olsen
How has your relationship with your art shifted over the years?
Our lives are many islands. The difference now is I have a better overview of things. For the Archibald Prize I won in 2005, I painted myself in profile looking both ways. This referred to Janus, the Roman god of entrances and exits. Being older certainly can cause apprehension, as I see the horizon getting closer, but we also have the advantage of so many memories of things we have done. As the Greek philosopher Epicurus said, being able to use memory creatively is much more profound than physical.
What are you still striving to create?
I don't believe in newness for newness sake, that's one thing. During the Renaissance, the criteria wasn't newness: the criteria was how to express something hugely complex. It comes down to consistent studio practice. Playing in a relaxed way allows the mind to circulate because you're not concerned with failure. So many people can't work freely because they don't know how to play. There are so many people who go to work each day and hate what they're doing. What they haven't grasped is that life is a short holiday from eternity.
How do you keep motivated to paint every day?
I'll put it this way: I have a new studio, and it's attached to my bedroom. Now that might seem such a simple thing, but it's very important because I've got a notion I ought to keep the studio warm. It's about being in the engine room of art.
What about your practice has become harder growing older?
I am frustrated with my physical limitations: I've got to use a walking stick and it's very hard for me to accept that. There is a youthful vitality I don't have anymore, either. There was an enormous painting called Spanish Encounter I once painted overnight. I was going out with this lovely girl; it was Saturday night and she couldn't go out. So I just picked up the brushes and it happened: a representation of frustration and entanglement, or non-entanglement in this case! I would never do that now, the sheer cheek and audacity of it!
How were artists perceived in your younger years?
We were an underclass. The great thing about it was you had to do it because you loved it. There were no grants, there was nothing. Pictures by Sidney Nolan nobody wanted are now going for $3.5 million, and I still think they're too cheap. And it's not to be forgotten that Australia was very enclosed then. It was the tyranny of distance. The population when I was born was only 2.5 million. We've come so far and it's such a great achievement.
What did your parents think of what you did?
There were no pictures at all in my parents' home. None at all. We'd never even been to an art gallery. So when I announced that I was leaving my job and this was going to be my life, my mother said, "What will the neighbours say?" And my father put his arm over my shoulders and said, "Y'know, son? You're going to be mixing with some very strange people." And by God, he was right.
What have you discovered about failure?
A bad day's painting or a failure doesn't concern me, because in a failure you can learn something. You shouldn't get upset about it. Go pour yourself a glass of wine at the end of the day, because there is tomorrow.
Do you think you'll ever stop painting?
An artist never retires. It's the greatest thing. He doesn't put the brushes down and play golf. It means continuity, struggling with new meanings and new ways of looking at things. It's a marvellous thing.
Retro windows of Japan
How come we're always staring out the window, but never staring at the window itself? Instagram account @kadonomaruimado encourages us to do the latter by admiring glass panes and the funny shapes they come in. Run by a Japanese photographer who appreciates retro aesthetics, Kadonomaruimado collects snaps of windows with rounded corners. Often  visible from the street, these soft frames make storefronts and office buildings look a tad friendlier and a little more cute. Stroll past more eye pleasing windows over here.
How made590 went from market stall to much loved fashion brand
If you've frequented King Street in Sydney's inner-west suburb of Newtown at some point in the last two decades, you might be familiar with Made590. The fun-loving fashion brand has been in business for seventeen years – no mean feat for any small biz. To hear about what it takes to go the distance, we dropped by Made590's new Marrickville shop and headquarters (the team moved from their Newtown location late last year) to chat to founder and designer Christina Kelly. If you're curious about how to build community, navigate local production and live your values, read on – Chris has plenty of wisdom to share.
Hi Chris! Tell us about how Made590 came to be.
I pretty much left high school and started my own screen printing business where I screen printed tees. I was doing the markets like Paddington and Bondi, then one day, I drove past this corner store for lease in Newtown, Sydney, right down the end of King Street. I'd always loved that place but never planned to have a shop. So I did the maths. My dad was an accountant and he said "Yeah, you could open up a shop." It was 2003, I was 23 and had no money. The rent was stupidly cheap so I just asked my friends if they wanted to stock their stuff on consignment. We ended up staying there for 16 years.
Where did your love of fashion begin?
I come from a big family of sewers on both sides. My nonna, grandma and mum were really accomplished sewers, so growing up all I ever had were homemade clothes. It actually drove me crazy! I was only allowed go fabric shopping and then I'd choose a pattern out of a book and Mum or Nonna would make it for me. I've always wanted to work in fashion and design clothing. But because I'm a terrible drawer, I never thought I could study fashion design – I didn't have the confidence. I went to a design high school that was very hands-on so I did a trade in screen printing.
How did you go from stocking other people's product to creating Made590's own line?
Once I had the shop, I could see where the gaps were. Sometimes people would be after a denim skirt to go with my t-shirt and I'd go "I'd love to make a denim skirt!" so I got in contact with a pattern maker, started sourcing fabric and did really simple shapes. It grew organically from there.
When did you make the switch from stocking other people's products to mostly stocking your own clothing?
About three years into the business when Kelly White, our co-designer came on board. She definitely had the confidence to design more. It became "Let's design what we want to wear". I never had enough guts to do that. Also, around that time, a lot of independent brands started to die off a bit so it was becoming harder to find Australian made products to stock.
Did you always plan to expand the business into a fashion line?
I just wanted to cover the rent! As soon as we opened the door, we were busy straight away. I remember it was right at the beginning of the retail boom: every week, we'd open Thursday to Sunday and literally empty out the shop. Then I'd spend Monday, Tuesday and Wednesday trying to frantically screen print and go around to friends' houses to pick up more stock. We opened at a really, really great time for retail, which I don't think Australia has ever seen again.
Starting a fashion business usually requires a fair bit of capital. How did you navigate the set-up costs?
We set up that shop on $5,000 (of course it was completely different when we moved to Marrickville this year and set up our new shop!) and because I asked my friends to stock on consignment, I didn't have any outlay on stock. Later on, I didn't design seasonal ranges – I would only design what we needed and did things very slowly. We'd make one denim skirt with a maximum of 30 pieces. That's the beauty of Australian made, you can have these small numbers. Then when the pieces sold, I'd reinvest that money and instead of just making a denim skirt, I'd make a dress as well. Everything just went back into the business. For three years, seven days a week, I worked every single day in that shop. You just live and breathe it.
How has your business model changed over the years?
When we first opened, websites weren't a thing. Two years into the shop opening, everyone was like, "You've got to have a website!" Luckily a friend helped me set up ours. But I was always very focused on bricks and mortar. I treated the website as a secondary thing for the longest time, until maybe a year or two before COVID hit. We have such a strong, local community and we'd still do markets like the Finders Keepers Market and Makers and Shakers so we always had so much going on that the website felt like an afterthought. We were doing OK without it. And then when COVID hit, it was our only line for getting stock to people. And the website just blew up! It boomed!
What's the split in sales between website and bricks and mortar for you?
It's a bit tricky because we're still quite new as a shop in Marrickville. Since reopening our doors in Marrickville and also having the website, it's about 60 per cent to the shopfront, 40 per cent online.
How have you found catering to a new online audience on top of your existing community?
To be honest, the balance is really hard. Last year when the website took off, we were only servicing web orders. I didn't have to worry about the shopfront, so I was just manufacturing for online. Now that we have the shopfront again, we're selling out all the time. Before our production numbers were pretty much just for one channel. But we have two now, so it's really hard to predict how much you allocate to the web and how much you allocate to the shop. It's really hard. I'd actually love advice on that.
That's difficult because you have to think about how big you want to grow in order to keep up with demand and whether that's sustainable for you.
Yeah, is it sustainable? Is that what we want? I work with independent makers where it's often just them and their partner, so if our production numbers keep growing, our makers would struggle to keep up. I don't want to let the customers down – if people want our stuff, I want to fulfill that demand, but I also have very strong ethics about mass production and keeping things made in Australia. I would never move my product offshore.
You launched your Everybody range in 2018 and now offer more sizes than most brands. Did you have to change your design and manufacturing process to make that happen?
Yes, and no. It was the best thing we did for our business, expanding to more people. I feel very strongly about the fact that it is something that should be offered across the board, even though it took me a really long time to realise that. But I never want somebody to thank me for making more sizes – it should be the norm.
When we started extending our sizes, we did use more fabric. But it doesn't use much more as what you'd think. We now manufacture from extra small to 5x, which is about 8 to 26 or 28. When I went to our pattern makers, cutters and makers and said, "We want to offer more sizes because there's a gap in the market," they agreed to cut only one or two pieces in each size. That's because I've been working with them for such a long time. I see my makers on a daily basis. They trust me and were willing to go out of their way to help me, but I don't believe you could do that straight away if you started a business right now. To go to a cutter and say you only wanted to cut five pieces in extra small without being charged surcharges along the way wouldn't be possible.
Lastly, making more sizes means there's an initial outlay in the patternmaking because you have to grade your pattern to more sizes, but that's an investment within your business. My advice is if a small brand can't afford to do this, maybe cut down on how many styles you produce. Maybe focus on five styles and add your size range to that. You've got to work out your ethics, morals and beliefs in your brand. And I truly believe that ours should include an inclusive size range.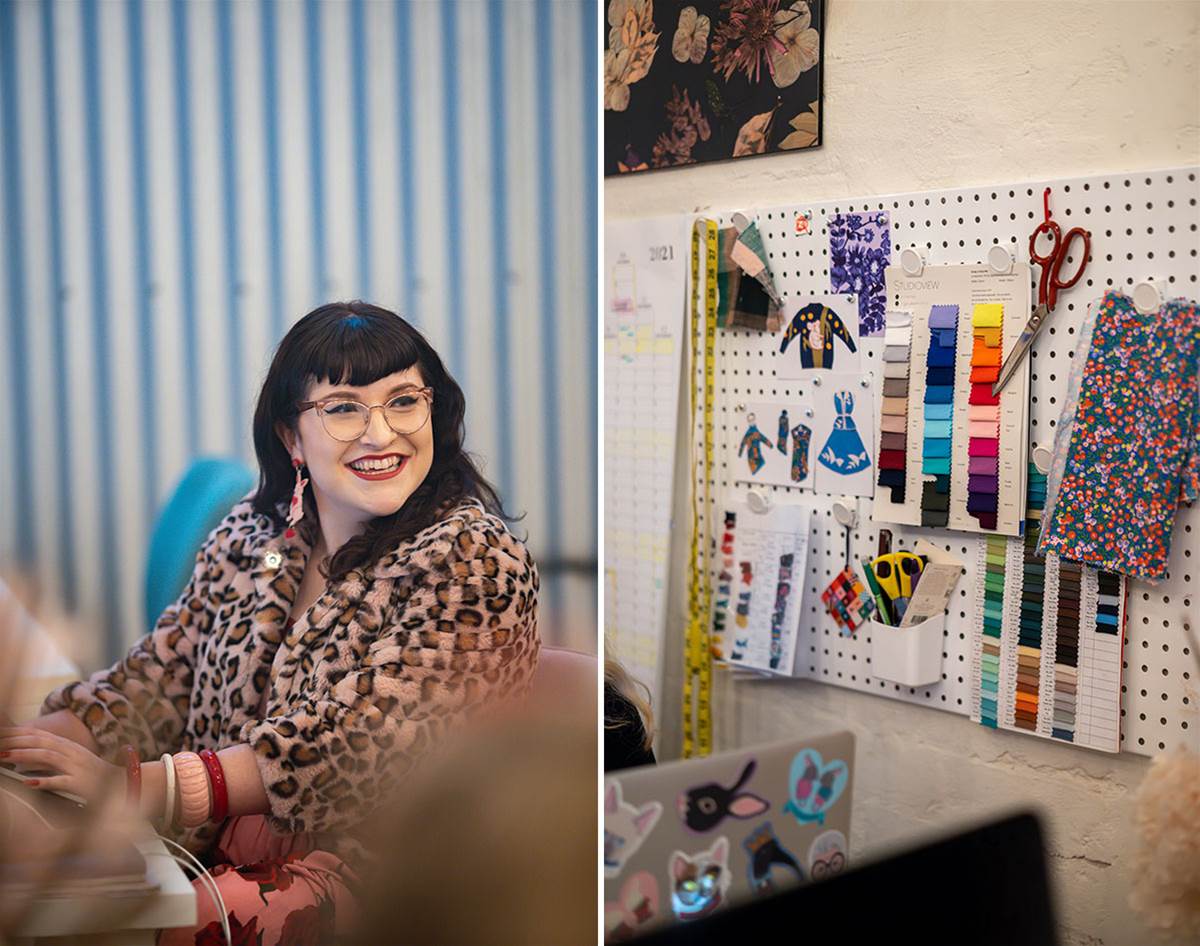 What is one major business lesson you've picked up in your time?
To love what you do and love who you work with. It's taken me a really long time to build a team that I'm super-happy with and super-proud of, where we all work seamlessly together. I think you've got to put the trust out there in order for them to trust you and vice versa. Employees are really important, so I always say "we" instead of "I" and include our team in socials. It's important for everybody to feel a part of it.
There's a really strong sense of community in your Instagram posts.
I think the value of community, whether it's within your team or your customers is probably the most important part of the business. The team all model the clothes online. That was actually a huge part of changing our business, having "real women" on the site. It actually came up because getting stock weekly meant not having the time to hire a photo studio and model. It made sense for us to model the clothes instead because we designed it.
You've survived the GFC and now COVID. Do you have any advice on riding out the hard times?
Don't buy beyond your means. I used to always make sure I had enough money to pay my makers, suppliers and staff – they're the number one priority. So maybe things like paying the phone bill weren't as much of a priority as making sure that the smaller people were taken care. Honestly, it has been extremely stressful over the years, and it meant that I didn't draw a wage until eight years into the business.
You're really passionate about making in Australia. What would you tell others looking to manufacture locally?
Something that has stayed with me for my whole time in business is that I'm extremely trustworthy. I cannot stress enough to anybody that it is so important to pay your makers and suppliers on time. I think if you can develop that reputation, people are willing to go out of their way for you.
Another thing about us being an ethical brand is that we don't haggle with price. I give a skirt to a maker and say "You need to tell me how much this is going to cost." They're always like, "Well, you tell us how much you want it to be." And I'm like, "No, you need to work out how much you need to make on this skirt." That's our business model.
How did you go about finding your makers?
Back in the day, I went to the Yellow Pages. I would call them and then I would go and meet them in person. I think that still applies today. You just doing the ring-around going "Hey, I'm starting my business. I want to make 20 units," or something like that is probably going to result in most people hanging up on you. It's not because they don't think there's enough quantity, they just don't think that you're legit and that you're going to waste their time. I don't think you can sit at home on a website, either. It's about word of mouth. Going to places like E&M Greenfield in Sydney, which is a fabric and haberdashery supplier is helpful. Everybody knows everyone in the industry so if you get a name, you can chase them up. My advice is to meet them in person and put in the legwork.
Keep in mind that a lot of makers are older, too. They don't have email, they don't have a website. They've worked in the industry for a long time and a lot are immigrants or refugees. And let me tell you, they've worked way harder than you've worked, so don't be too full of yourself. Be genuine. You need their help. Don't act like they're working for you because you're working together. That's what's kept me going 17 years.
Throughout the years, how have you made sure that you've stayed relevant and that you're serving your market?
It's definitely intuitive. I go on my gut and I rely on my team's gut. I have an amazing team. One thing I really have to stress as well is don't be scared of competition. It helps you thrive, keeps you going and wanting to be better. There are enough people and enough consumers out there for everybody.
In terms of how we kind of work, I don't think you should design to what is trendy. Make what you want to wear, because if you want to wear it, and you and all your friends and your team want to wear it, chances are, the rest of the world want to wear it, too. That's how we've always done it. Kell and I don't wear jeans or pants – we hate them. So we don't make any. Over 17 years, we've designed two pants. So my advice is if you believe in it and love it, chances are other people are going to as well.