Since we entered lockdown in Sydney and opportunities for eating out, apart from ordering takeaway, became fewer and further between, I renewed my cooking efforts and committed to spending more time meal planning and in the kitchen. My culinary journey was heavily inspired by Ellie Bullen, the twenty seven year old cookbook author, Nutritionist and Dietitian with a strong and unwavering passion for plant based eating. I do still eat meat however! She's originally from Lennox Head in Northern New South Wales but now lives on the Gold Coast with her Husband Alex, baby boy Bowie and pup Oatly. Over time she's taken on a variety of interviews- I figured I'd compile the best of the best questions and share her answers with you further down. Fun facts for now- Ellie is an identical twin alongside sister Lauren who is five minutes older and she joined the army for a year when she was seventeen. She hoped to do something different and out of the box that people wouldn't expect.
Ellie shares an array of colourful and vibrant plant based recipes in Elsa's Wholesome Life: Eat Less from a Box and More from the Earth + The Global Vegan. Her popular lifestyle blog is a veritable explosion of coastal living, sunshine and diverse dishes that marry health food and decadence. The couple also run The Wholesome Store, selling a variety of considered and curated lifestyle, fashion and kitchenware goods.
Ellie delves into greater detail on how to achieve a diet rich in essential vitamins and nutrients and shares her tried and true professional advice on balancing your carb, protein and good fat intake. She also covers smart and intentional grocery shopping, setting yourself up for success and organisation in the kitchen and leading an general lifestyle that is kinder to your body and gentle on Mother Earth.
Her second cookbook was inspired by adventure and the international cuisines she enjoyed during various travels around the world. From Indonesia to India to Korea and Japan, Ellie's unique take on traditional foods is very much a hit. She has a knack for keeping the essence of that classic meal and imbuing it with her signature flavour and texture trademark. To put a spin on things she's included healthier, plant based versions of well known favourites like Pad Thai, Spicy Ramen Soup and Portuguese custard tarts. Another favourite of mine is Lola Berry's the 20/20 diet cookbook.
What would you say your life mantra is and do you have a food philosophy?
Begin each day with a grateful heart is my definite life mantra! My food philosophy is love your body and soul by living a wholesome life, eating the foods that nature has provided us with. Eat a wide variety and spectrum of foods, getting all the colours of the rainbow in. Don't ban any food groups- just enjoy them in moderation.
Other than that, my motto is eat more plants! I want my lifestyle to be welcoming and encouraging rather than a strict one size fits all approach. I detest the stigma that surrounds vegans being pushy and judgmental of others. While it may not be for everyone, plant based eating is amazing and you need not shy away from trying it out or promoting it.
What inspired you to start your instagram page, Elsa's Wholesome Life?
While I was attending University I found that my courses were largely science based whereas I enjoyed regular opportunities to practice creativity. Going to the kitchen and creating eye catching and visually interesting images of food is my art. It felt natural to start uploading photos of that on Instagram. Initially I didn't have particularly high expectations or visions of success. It was a hobby.
At the time, I was learning about nutrition in my studies and began incorporating aspects of that into my page. A few years ago I moved overseas to Bali. My first cookbook was published in Australia while I was overseas. My social pages turned into a compilation of my overarching lifestyle- I really do aspire to adventure and self growth! I do my best to make it inspiring for other people to be healthy, eat well, learn to cook and travel.
While I was finishing off my degree in nutrition and dietetics, my social media profiles and blog really started taking off. I received my first book publishing contract and realised that I wouldn't have to move into a normal nine to five dietetic career as per se and could use my online platforms to generate an income anywhere in the world.
Your philosophy is 'Eat More plants'- can you elaborate on the why behind that?
Well, during University, one of the key nutrition problems that was highlighted was that only five percent of Australians eat the recommended amount of vegetable servings. My philosophy to 'Eat More Plants' is basically just encouraging people at the simplest level to eat more from the Earth. Not only is it good for your health but for the environment too!
I haven't always eaten plant based- I was never a huge meat eater however as I didn't enjoy the taste. The journey to my current lifestyle has been a progression over the last four years. I chose a vegan lifestyle because it's a moral choice to save the animals. Secondly, it makes me feel so much better- energised and truly alive! I feel incredibly nourished by eating plant foods and I prefer their taste. Couple this with getting out and being active and it's just amazing- I want everybody to share in this way of life.
What does your current diet look like? Share your day in meals!
I eat a vegan and plant based diet- think lots of vegetables, fruit, legumes, grains, nuts and seeds. My day on a plate looks something like this: For breakfast I'd have a homemade smoothie with banana, dragonfruit, pea and rice protein, cacao, kale, peanut butter and almond milk. Alternatively, homemade bircher muesli soaked overnight and topped with fruit.
For lunch, a buddha bowl style salad with plant protein such as tempeh or chickpeas, avocado, heaps of mixed leaves, fermented cabbage, nuts, tahini and brown rice. For a drink I'd have fresh coconut water or long black coffee.
For dinner I enjoy home cooked soup, salad, or stir fry. I tend to stick to recipes included in my cookbook, often rotating between favourites. I particularly enjoy my pumpkin soup, pumpkin soba noodle salad, buddha bowls or satay pineapple fried rice. I don't tend to snack too often unless I have time. If I do it's usually nuts, fruit, bliss balls and my guilty pleasure, a matcha latte.
Where are your favourite spots to eat, sleep, sweat and relax in Bali?
I stay active by walking around cities, hiring a bike or going on hikes to cool spots. Other activities I enjoy include kayaking and swimming.  I aim to book hotels with a gym so I can squeeze in a few workouts while on holiday, otherwise I'll do ab repetitions in my room. I love going up to Ubud for the day to have some good food- Kismet is a great eatery. I also visit the markets, waterfalls and rice paddies for epic photo opportunities.
Eat: Peloton Supershop, The Shady Shack, Kismet Bali, Alchemy, Quince Bali, The Lawn Canggu and Mason in Canggu.
Quince Bali have a distinctly Australian style menu, which I enjoy. They use lots of fresh herbs and flavours in their and there are plenty of vegan options on the menu. Be sure to check out the homeware store inside the cafe as there are so many cute ceramics. Peloton is my favourite vegan cafe in Berawa- I have designed a mini menu for them so you can come and try one of my smoothie bowls while you're in Bali.
Mason in Canggu is one of my favourite places to go to for dinner and drinks with a big group of friends. They have a yummy cocktail menu and a variety of share style dishes. The Lawn Canggu is Bali's best bar. The view from the top deck of the Lawn is the best place to watch the sunset over the ocean and have a cold drink.
Sweat: Campuhan Ridge Walk, The Practice Yoga, Canggu Avenue Gym.
All of the waterfall areas make for a great hike! There is such lush greenery and it's so nice to go for a cool dip after a hot and sweaty few hours. I really loved Sekumpul Waterfall. The view of the sunset from the cliffs at Uluwatu is absolutely stunning. This view is also my favourite during the day, watching the waves and surf while sipping on a fresh coconut. You can't beat it!
Boating around neighbouring Island Flores, located about an hour and fourty five minutes away from Denpasar,  has to be my favourite in terms of the ocean. The water is so clear and bright. It's just the best way to see the islands and snorkel.
Sleep: Gravity Hotel Uluwatu, Bambu Indah, Fivelements Bali, The Slow.
Relax: Five Elements Spa, Goldust Canggu, Therapy Canggu.
Living in Bali I actually didn't stay in too many different villas as we rented long term. But for a special occasion I loved to book in at Five Elements for a relaxing getaway. Their spa rituals are a must do while staying as is a flower bath at your villa overlooking the river.
The Slow is is my favourite hotel to stay at. It's super central to Canggu so makes getting places by foot easy. I also love the menu at their restaurant plus the styling of the hotel rooms.
What does a typical day from morning to evening look like for you? What do you do to move your body, nourish yourself and practice self care?
First things first, when I wake up, I love to get outside and run. I'll get up before the sun and go for a long run on the beach, followed by some stretching. Some afternoons  I enjoy Pilates and Yoga at a local studio. My time getting active is so important to me as it ensures I'm calmer and happier.
Breakfast sure is the most important meal of the day and probably my favourite too. I love making smoothies, acai bowls and other wonderful fruity concoctions. At the moment I enjoy a dragon fruit smoothie most days. It has a gorgeous deep pink colour and contains good amounts of Vitamin C, B1, B2 and B3. It's also low fat and high fibre- be careful though, it stains your hands!
In winter I find myself eating warm oats every morning. During the day I'm often busy with work or uni so will eat simply, snacking on fruit, salads, nuts and more.  Dinner time is where I love to get creative- experimenting every day means it never gets dull. I'll make my dinners vibrant and veggie filled, adding different kinds of legumes and grains for texture. I am obsessed.
The time I spend exercising is where I am able to put most of my energy into loving myself. Yoga helps me take time to thank my body and clear my mind. When I have time off you can find me in the kitchen experimenting with a new recipe for my blog or sitting on the beach under a big hat with a book. These moments give my life balance and are good for the soul.
There was a period where you were doing an Honours Thesis or Dietetics placement full time for University whilst also creating a cookbook-is there anything beneficial you'd like to share from that time?
My Honours Thesis looked at entrepreneurial Dietitian's thoughts on the Dietetics profession and education. It was interesting as so many issues were brought up but also repeated by many participants. It was clear that the profession needs to continue to move with the times and be on top of emerging technologies such as social media. Education at University needs to teach future Dietitians skills in these areas in order for them to be adept.
What advice would you give to those wanting to start eating healthier and more plant based?
I would say start with the basics! Eat whole, real food such as fresh fruit, vegetables, legumes, nuts and seeds over what's packaged and likely has lots of additives. Don't over complicate it, just start experimenting with some recipes. Try a variety of different fruits and veggies and don't eat the same things on repeat or you'll get bored of it pretty quick! Once you've begun making changes that stick, be brave and make more.
Do you have an opinion on whether Australia should have a sugar tax?
I think it's a great idea, just as they did with cigarettes. However, it's more of a bandaid fix and definitely not the ultimate solution. People will still crave sugar and therefore will still purchase these things, even if there are added barriers to access. What will help is starting conversation on this issue and getting it talked about in all manner of circles. I believe the tax should apply not only to sugar sweetened sodas but also flavoured milk, sports drinks, energy drinks, fruit juice and more. Another consideration is taxing foods, particularly snacks that typically end up in school lunch boxes. Roll ups, muesli bars and so on. This tax could be used to subsidise healthier food options like fruit and vegetables to encourage better eating habits from the get go.
What are your personal top five favourite foods or ingredients and why?
I love avocado as it makes a delicious creamy alternative to dairy- I like to go crazy on the guacamole when I get nachos! Lime is another go to as it adds so much flavour to salads and sauces. I'd say bananas too as they're so versatile. My discovery of nice cream has been a real game changer- there are few nights that I go without it for dessert. Strawberries are a favourite too because they're sweet and delicious. I always have berries in my fridge for snacking, smoothie bowls or making treats. Finally, I'm obsessed with mushrooms. Shiitake are my favourite because of their the strong flavour and texture. I add them to soups and stir frys.
What difficulties have you encountered  being vegan while travelling the world?
The language barrier and lack of understanding of veganism and plant based eating in some countries is a difficulty. It can be really hard to find a wholesome vegan meal and not have to rely on scraps. Proper research on suitable places to eat, the local language, traditional dishes and ingredients can assist you in sourcing proper vegan foods. However, there were definitely moments I'd believed I'd ordered a vegan dish only to receive something with non vegan ingredients like dairy or fish sauce. In the end, I decided to be more flexible while travelling as I didn't want to make situations like this uncomfortable for these restaurants or those travelling with me.
Where do you love to eat on the Gold Coast?
My favourite places are Greenhouse Factory in Kirra, Mandala Organic Arts Cafe, Paddock Bakery for the great atmosphere, Can-Tho Vietnamese restaurant who do a ripper vegan Pho upon request and Blendlove for their great chai pots, raw cakes and veggie burgers!
I love that there is so much to choose from when it comes to eating out, so many beautiful beaches and of course the Gold Coast's proximity to my first home, Lennox Head. Paddock Bakery is a little rustic house fitted out with amazing old furniture. It gives me a wealth of inspiration for my food photography and is my dream home.
The food at the GreenHouse Factory and Blendlove continues to inspire new vegan recipes for my blog and I love visiting the village markets on weekends. Six Things Store is great for handmade plates, bowls and cutlery to use in my blogging and photo styling.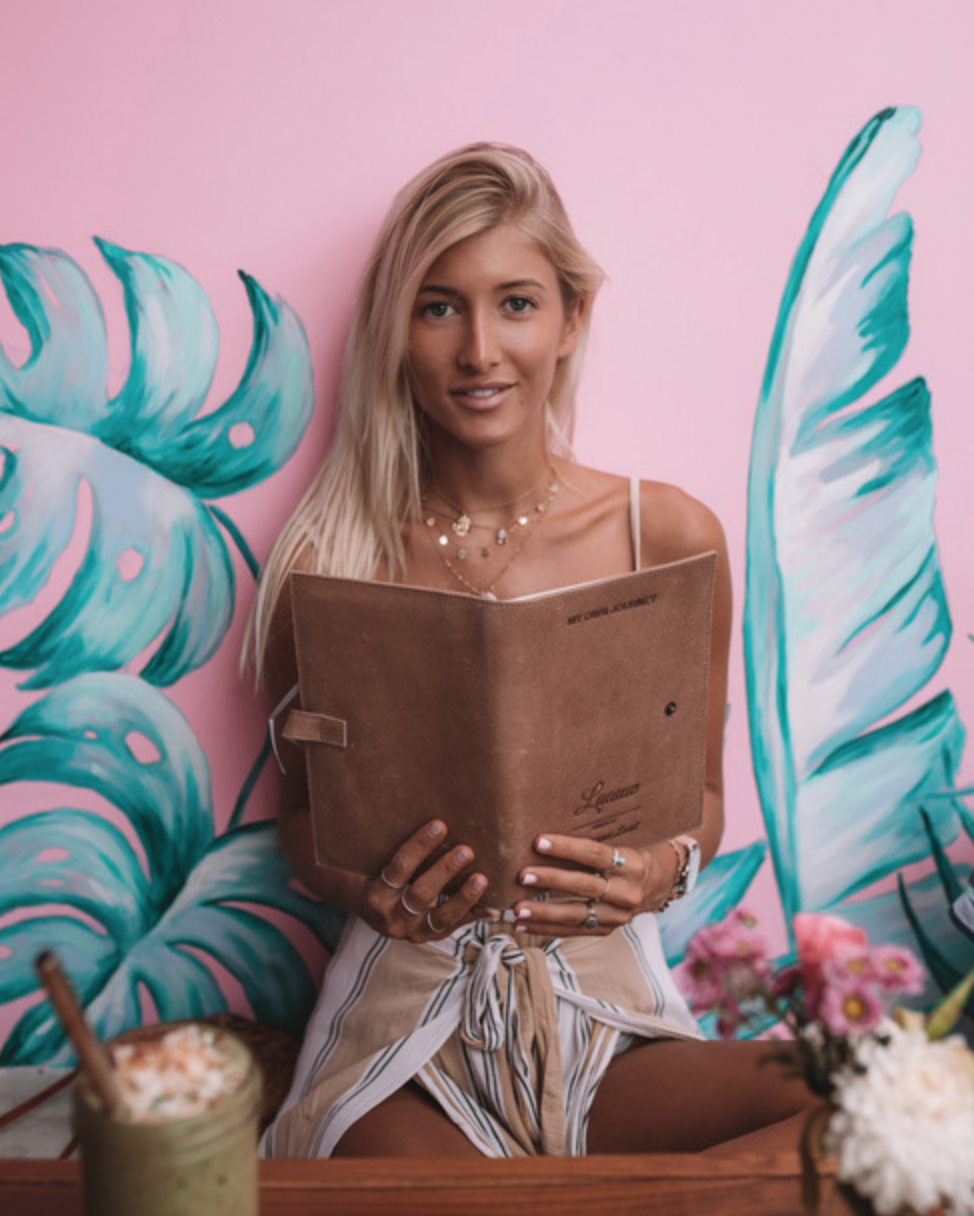 What does a typical week in your digital nomad life look like when travelling?
Well, it depends where I am! When I'm travelling, no week is the same. In Bali I enjoyed working out at the gym every day, creating content for my Instagram and blog, venturing out to a new cafe for lunch, running business meetings, meeting friends and cooking dinner at our home. A few years back my partner Alex and I left our home in Australia to travel as much as we could, visiting new places every month for a year.
When in Bali, I usually get up at seven or seven thirty am. I used to get up at five in the morning  to go to university so now I'm adjusting to island life. I check my emails first and then my partner and I head to the gym. Afterwards we'll come home and make a smoothie, then finish off more work and emails. At the moment, my priority is to get videos on my YouTube channel. Afterwards, we go for lunch at one of our favourite cafes, Peloton Supershop. It's right around the corner from our home in Berawa.
After a satisfying feed, we'll come home and continue working on what I was doing or shoot new recipes I have to put up, then confer with clients. On certain days we'll do mini photoshoots and other times edit those photos. Then we cook dinner at home and watch some netflix before bed. When I'm in Bali, I really work on keeping a routine otherwise things get out of hand. Also, not having a boss and working for yourself means being highly motivated. You have to keep pushing yourself and stay in line otherwise you'll justify a lot of time off! Overall it makes for a good lifestyle though because you can work from everywhere.
Where does you shop for food and groceries?
I love buying my fruit and veggies from Tugun Fruit and Flowers or the Saturday Burleigh Farmers Markets. I get all my bulk foods from The Source Bulk Foods store in Miami.
With your love for both cooking and travel, do you find it hard to make creations while on the road?
Yes, it can be hard at times. Our place in Bali does have a kitchen of course though. I even brought my blender along with me- a must have! When travelling, I always look for accommodation with a proper kitchen so we're preparing meals at home and not eating out constantly. We'll head to a local supermarket and pick up ingredients to cook with.
My experience has been that Australia and America, mostly New York City and Los Angeles, have amazing plant based food options. However, Bali is the best by far for this cuisine. The cafes and restaurants in Indonesia have so many delicious options that aren't meat or dairy laden. It's my favourite place to go relax, eat good food and get fit.